Important information to know before you schedule an eye exam.
You should contact Medicare or Medicaid agencies to confirm your benefits before 
scheduling an exam. Not all doctors that accept Medicare also accept Medicaid.
Medicare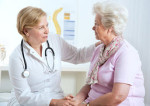 Medicare will not generally pay for routine eye care, but it will pay for some eye care services if you have a chronic eye condition, such as cataracts or glaucoma. Eyeglasses or contacts are covered only if you have had cataract surgery during which an intraocular lens was placed into your eye. If you have vision problems that indicate a serious eye condition, Medicare will pay for an exam to see what is wrong, even if it turns out there is not anything wrong with your sight.
Medicare will only pay for routine eye care if you have diabetes. If you are at high risk of glaucoma Medicare will cover an eye exam by a state-authorized (licensed) eye doctor once every 12 months.
A doctor may recommend you get services more often than Medicare covers. Or, they may
recommend services that Medicare doesn't cover. If this happens, you may have to pay some or all of
the costs.
Medicaid 
The amount of coverage for vision care is different from state to state with some states providing eye exams and treatment for specific groups while others only offer limited vision screenings for children starting school as part of Well Child programs. In some states there might be a small co-pay for some benefits, for instance some states require a one dollar fee for eye glasses and will not cover any special features. Most states restrict the selection of eyeglass frames as well.